So. After I
wore these mustard yellow tights last
, I've been really struggling with how to style them. I didn't like the proportions of the black and white outfit, and honestly the tights got some comments that really shook my confidence in wearing them.
But hey, I am not about to let an expensive pair of tights just sit in my drawer, so here you go: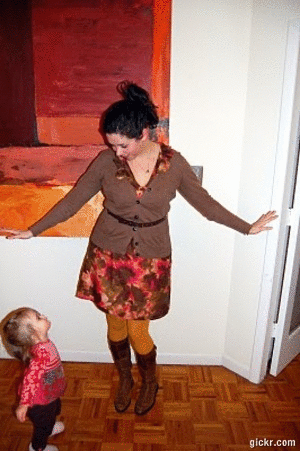 Let's all take a moment, because I kind of can't believe I made that happen. Thanks to Adrien and
Gickr.com
!
Anyway, once again, I don't know. I like the mustard with the earthy tones of this dress (which does have flecks of mustard in it, you just can't really tell in the pictures).
Why is this so tough? Should I try matching the tights to a skirt, as suggested
here
?
Honestly, I was feeling semi okay with it until my optometrist told me that I looked like something out of the Wizard Of Oz. Then I got stuck in the rain and ruined my hair and meh.
sweater: Old Navy
belt: anthropologie
dress: LOFT
necklace: Diana Warner
boots: Donna Karen